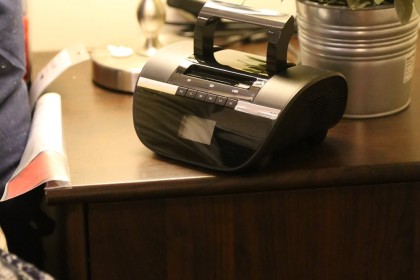 In line with the latest innovation in speakers, DGB has launched Retro Bluetooth Speakers with FM supporting compatibility with all the devices.
Having packed with all the modern features such as Bluetooth, FM, Digital Clock, Aux, Memory Card in addition to alarm packed in the all time favourite good old speaker looks, the Retro speakers' handsome curves exude nothing but sleek elegance with a strong physical presence that demands respect, flaunting a heavy-duty attitude with high glossy front panels, scoring high in the looks department.
It is powered by 3w dual speakers for high-performance sound quality. With 3-4 hours of battery backup power, the speakers promise and deliver crisp, clear and powerful sound anytime on the move.
DGB Retro Bluetooth speakers are compatible with any device like PC, smartphones, etc. Also, it supports FM tuner to run radio channels. With super-tight bass, uninhibited dynamic punch, superlative midrange tone, and pure treble, the latest at DGB is a strong contender on a number of fronts!
Now you can wake up with your favourite sound track or FM radio station every morning and have a stress-free day.
Retro speakers are available at a price of Rs.1,699/- which delivers impressive sound while consuming as little energy as possible.
View more on the DGB Retro Bluetooth speakers here: https://www.youtube.com/watch?v=xctPgMHwAnA